Shopping Cart
Your Cart is Empty
There was an error with PayPal
Click here to try again
Thank you for your business!
You should be receiving an order confirmation from Paypal shortly.
Exit Shopping Cart
"Let the one who has no sword sell his cloak and buy one".
| | |
| --- | --- |
| Posted on June 27, 2015 at 11:24 AM | |
I have had this gun belt by Alpha Omega gun belts for several months now and feel it's to the point where it's broken in enough that I can give a review on it. 
Here is the excerpt from their website:
"Patrol"
"This belt is for the law enforcement community,or if you just happen to like black belts. Dyed black and polished to a shine. This belt will not only look great, but will give you unparalleled performance in the field. Made from 2 layers of premium American veg-tan leather from Hermann-Oak Tannery that are glued and hand stitched together for unsurpassed strength and reliability. This thing is 1/4"+ thick and 1 1/2" wide! Comes with HEAVY DUTY brushed nickel buckle. IDPA LEGAL!"
The owner actually lives near us and I know him personally but am going to keep this review at just that a review.
The belt I have is the one listed above and I have a cross stamped at the end of it which is pretty cool. It won't be seen by many since I typically keep my shirt un-tucked but I do tuck it in occasionally. 
I was wearing either a nylon military style belt or a single layer leather belt. Both of which did their job and did it pretty well or so I thought at the time. I really didn't notice that I had to pull my pants up a lot and I had to keep them so tight to keep everything held up I didn't realize how uncomfortable it was. I also didn't realize that they would both lean out causing more discomfort and what ever I had on at the time to stick out more than I wanted it to.
I started wearing this belt as soon as I received it. I'm going to tell you this is one stiff belt when you get it, just like a brand new pair of good leather work boots. It does have a break in period. When I first put it on I tried to pull it as tight as I had been doing with the other belts but that was way too uncomfortable. I had to loosen it up a notch so it didn't dig into the top of my hip bones. Once I did loosen it up it did feel a lot better. I was however a little worried about it sagging since I didn't have it tight enough to keep it up, or so I thought.
This belt doesn't have to be super tight to stay up, it just needs to be snug around your waist and it's sturdy enough to hold your pants up without being so tight it's digging in and cutting off your circulation. 
With my other belts the more stuff I added the tighter I had to go and even then I had to keep pulling the belt up. Not with this one, I can put all my daily edc gear on and it has no problems. My gear consist of gun w/holster, multi-tool, and 2 extra mags. This belt has no problems holding the weight up and it distributes it so you have a good feel and don't feel off balance. My others did not, you could feel one side sagging and had to keep pulling up at it. 
I am very pleased with the belt and it will last for many, many years. It even comes with a care kit and instructions on how to take care of it to get the most out of it. 
If you're not happy with your current belt you should definitely check this company out. They have several colors to choose from and you won't have to buy another belt for a very long time. Whether you're a police officer, ems worker, fireman, or concealed carrier you won't be disappointed with this belt. 
The company stands behind their craftsmanship as well and takes pride in their work. Go check them out: 
http://www.aogunbelts.com/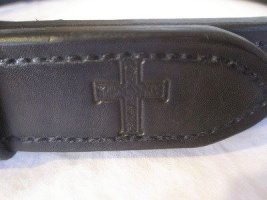 The first 3 pictures are of my belt and the other 2 below are of the other colors you can choose from. 
Overall these belts are some of the nicest I've seen. They will do whatever you need them to do and probably much more. I could add a lot more to mine with no problems. They are definitely worth it and you'll save money in the long run and will be much happier with the way they carry. 
Categories: Accessory Reviews
/